P320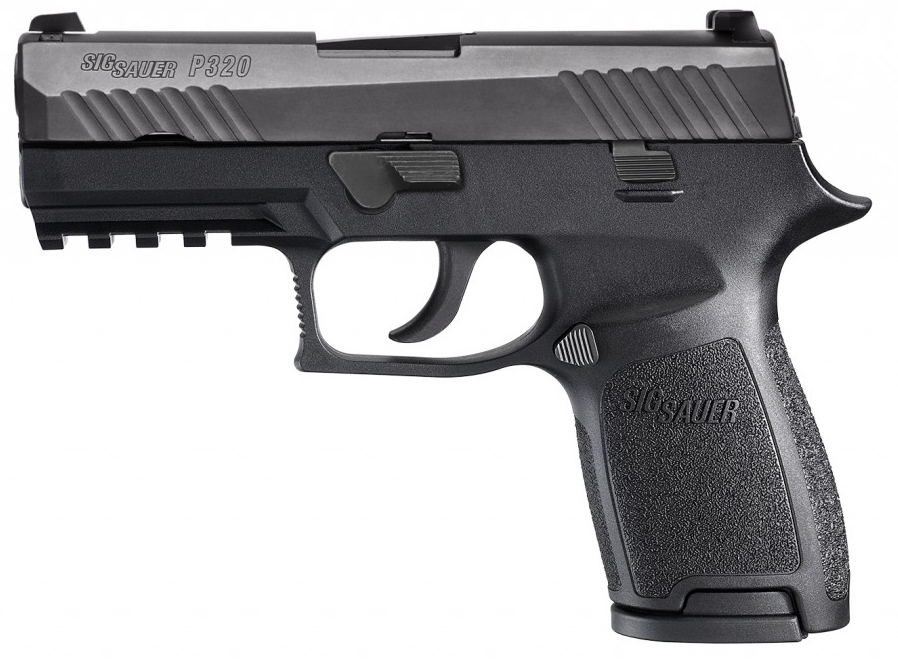 Double-action only available in 9mm, .40 S&W, .357 SIG or .45 ACP. Barrel length 4.7". Double-stack magazine capacity (rounds): 10 (.45), 14 (.357 and .40), 17 (9mm). Other features include SIGLITE night sights, interchangeable grip panels and black Nitron finish. Also available in compact (3.9" barrel) and sub-compact (3.6") models. Disassembly process uses a take-down lever and does not require pulling the trigger. M17 variant of P320 has been selected by U.S. Army to replace Beretta M9 service pistol. NOTE: On August 8, 2017, SIG SAUER issued a press release with the following information: P320 meets U.S. standards for safety, including American National Standards Institute (ANSI), Sporting Arms Ammunition Manufacturer's Institute, Inc. (SAAMI), National Institute of Justice (NIJ), as well as rigorous testing protocols for global military and law enforcement agencies. Recent events indicate that dropping the P320 beyond U.S. standards for safety may cause an unintentional discharge. As a result of input from law enforcement, government and military customers, SIG has developed a number of enhancements in function, reliability and overall safety, including drop performance. SIG SAUER is offering these enhancements to its customers. Details of this program are available at sigsauer.com. The M17 variant of P320, selected by the U.S. government as U.S. Army's Modular Handgun System (MHS), is not affected by the Voluntary Upgrade.
Gun Type:
Handgun
P320 RX
Same specifications as full-size P320, plus slide-mounted reflex optical sight.
P320 TACOPS
Variant of P320 in 9mm only. Large grip and magazine, with 21-round capacity. Comes with four magazines. Fiber optic front, SIGLITE rear sights. NOTE: Add $50 for compact model, with 3.9" threaded barrel.