FIRST SERIES
---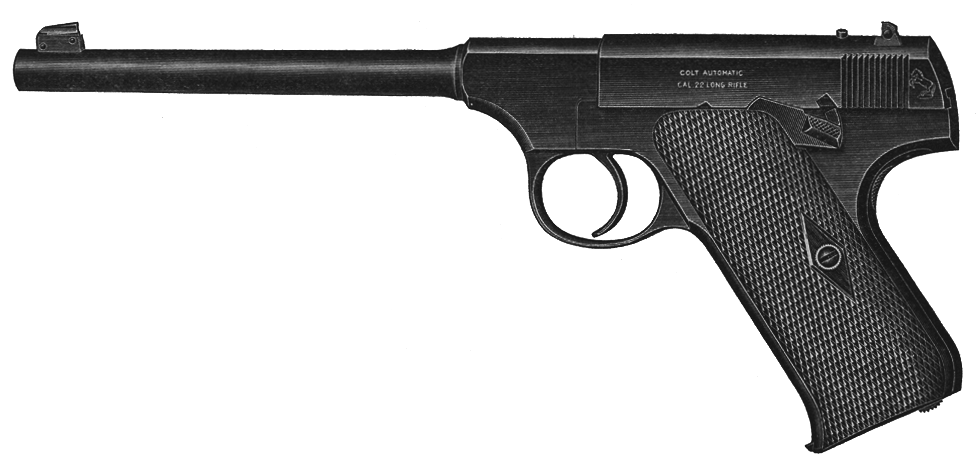 Model made from 1915-1927. Has a 10-round magazine, blue finish, checkered walnut grips and 6.625" barrel. Designed for .22 LR standard velocity ammunition. Rear sight adjustable for windage, front sight for elevation. Up until approximately serial number 31000 the barrel was a very thin, so-called "pencil barrel". Barrel weight and diameter were increased slightly in 1922, to what collectors now call the "medium weight barrel". Also numerous small changes in grips, magazines and markings over the years. Approximately 54,000 were made in all variations.
---
Initially, this was exactly the same as late pre-Woodsman, with the exception of THE WOODSMAN marking on side of receiver. Later there were small changes in sights, trigger and markings. In 1934, barrel profile was again modified to a larger diameter, heavier barrel. This third and final pre-WWII barrel profile lacked the fillet or step-down, as was present on earlier pencil barrel and medium barrel, therefore commonly called the "straight taper" barrel. A significant modification occurred in 1932, when a new heat-treated mainspring housing and stiffer recoil spring were phased in to allow use of increasingly popular high velocity .22 LR ammunition. While this change had widely reported to have taken place at serial number 83790, it was actually phased in over a period of time and a range of serial numbers, spanning at least 81000-86000, within which range both standard and high speed versions can be found. Fortunately, Colt changed the marking on back of mainspring housing (see photo) to allow visual differentiation. Colt also sold a conversion kit to modify older guns for use with high velocity ammunition. Kit consisted of a new style mainspring housing, stiffer recoil spring and coil type magazine spring for use in the very early guns that had a Z type magazine spring.
---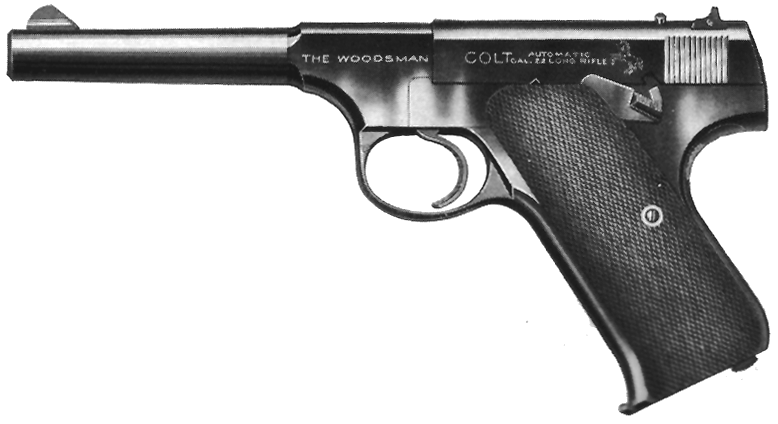 THE WOODSMAN, proving to be increasingly popular with outdoorsmen of all types, Colt decided to market a Woodsman better suited for "take along" gun for hiking, camping, etc. This was accomplished in 1933, by merely shortening the barrel from 6.625" to 4.5" and announcing the new Sport Model. Other than barrel length, the only difference between Target Model and Sport Model was an adjustable front sight on Target Model and fixed front sight on Sport Model. Later, a front sight adjustable for elevation would be an available option for Sport Model. Colt called this arrangement "Target Sights". Indeed, it was the same front sight used on Target Model. First Series Sport Model, with adjustable front sight will command a premium of approximately 25 percent over values listed.
---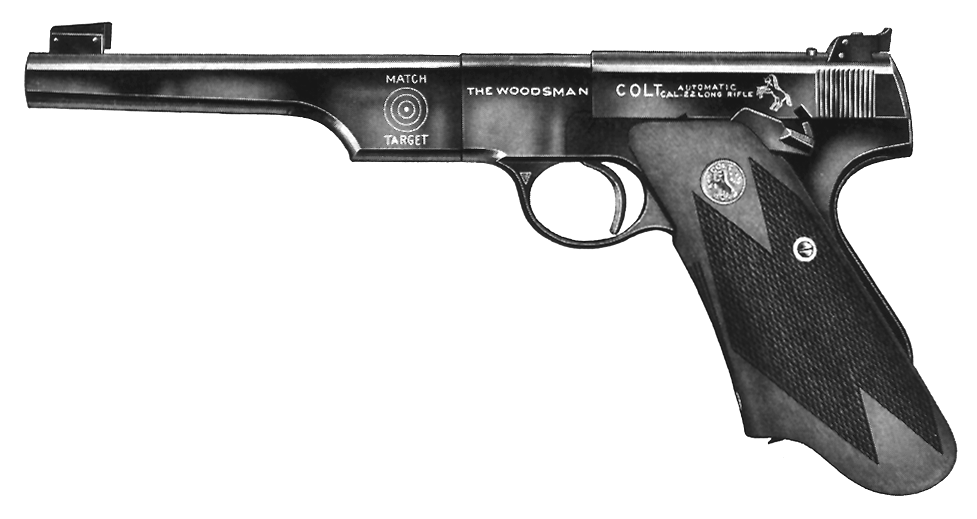 Colt introduced Match Target Woodsman in 1938, with its own serial number series beginning at MT1 and continuing until 1944 with serial number MT16611. New features included larger grips, heavier barrel (6.625") and rear sight fully adjustable for both windage and elevation. To signify its intended market, a Bullseye Target pattern was placed on side of barrel. That led to its nickname "Bullseye Match Target". Elongated one-piece wrap-around walnut grips also picked up a nickname due to their unusual shape. Unfortunately, the so-called "Elephant Ear" grips are somewhat fragile and often broken. In addition, many serious target shooters of the day replaced them with custom grips with thumb rest and palm swell. Original grips were set aside and eventually lost or discarded. For those reasons, original grips are often missing and that severely affects value. Values listed assume original one-piece walnut wrap-around Elephant Ear grips, no cracks, repairs or modifications and a correct Match Target marked magazine. Values listed for Fair and Poor condition are primarily salvage value and reflect the high value of original "Elephant Ear" grips and Match Target marked magazines for spare parts. Approximately 11,000 produced for civilian market from 1938-1942.
---
No Photo Available
After U.S. entered WWII at the end of 1941, civilian production at Colt stopped and total effort was devoted to U.S. military. Slightly more than 4000 First Series Match Target Woodsman's were delivered on U.S. Government contract from 1942-1944. Most of them, but not all, had serial numbers above MT12000. With possible rare exceptions, they all had U.S. Property or U.S. military markings, standard blue finish, 6.625" barrel and extended length plastic stocks. Plastic stocks are sometimes erroneously called elephant ear stocks. Military plastic stocks are still relatively easy to find and inexpensive. Since they will fit any First Series Colt Woodsman, they are often used as replacement grips on non-military guns. Since military guns had plastic grips, rather than costly and desirable "Elephant Ear" grips, salvage value in Fair and Poor condition range is less than that for civilian model.