LeMat "Grapeshot Revolver"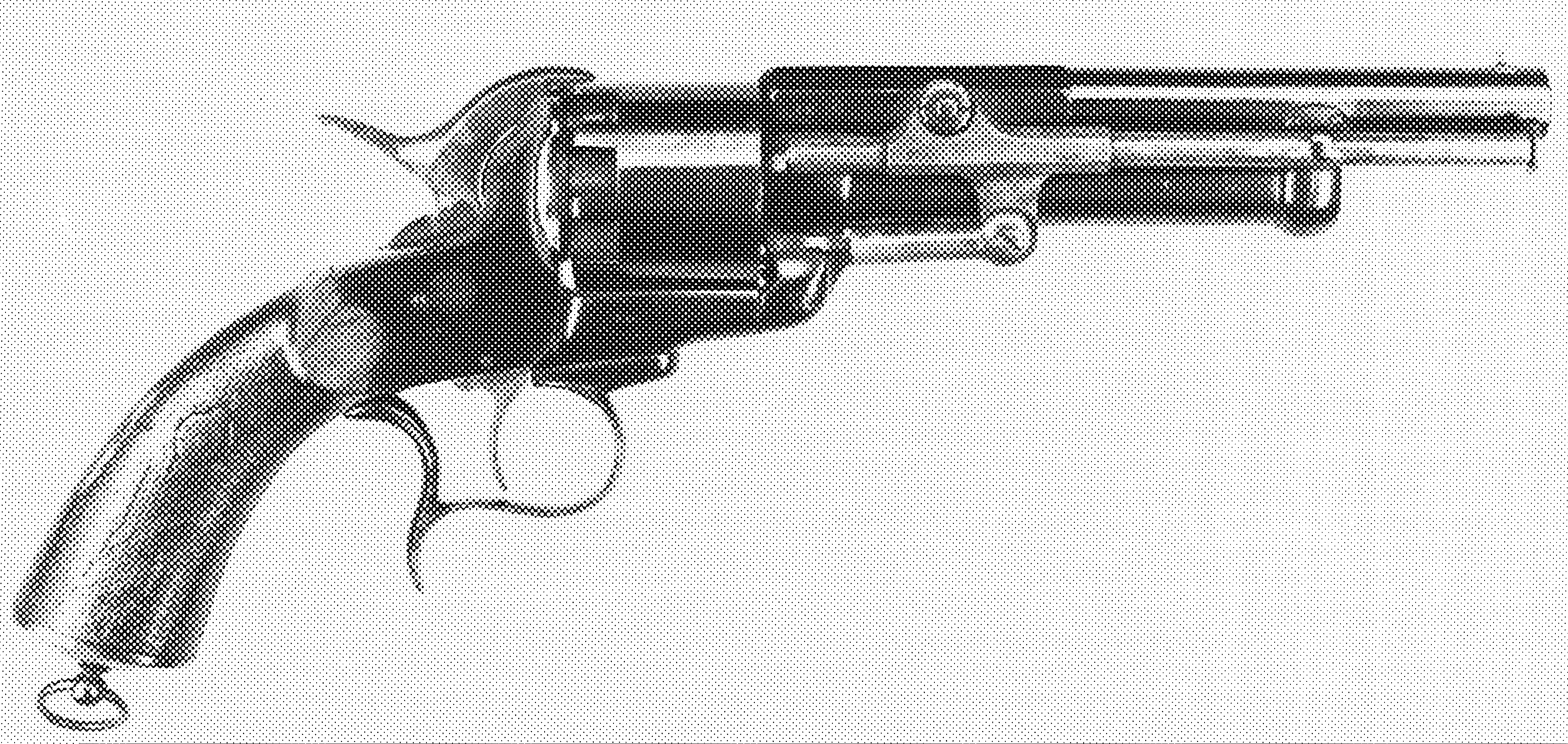 Courtesy Milwaukee Public Museum, Milwaukee, Wisconsin
Somewhat unique background that makes it a bit controversial among collectors. Foreign-made firearm manufactured in Paris, France, as well as Birmingham, England. Designed and patented by an American, Jean Alexander Le Mat of New Orleans, Louisiana; purchased for use by Confederate States of America and used in Civil War. Curious firearm, as it is a huge weapon that has two barrels. Top 6.5" barrel chambered for .42-caliber percussion and supplied by 9-shot unfluted cylinder that revolves on a 5", .63-caliber smoothbore barrel that doubles as cylinder axis pin. These two barrels are held together by a front and rear ring. Rear sight is a notch in nose of hammer. Attached ramrod on side of top barrel. Weapon marked "Lemat and Girards Patent, London". Finish blued, with checkered walnut grips. Fewer than 3,000 manufactured. Approximately one-half were purchased by Confederate States of America. Made between 1856 and 1865. Both full size and Baby LeMats were also made for pinfire cartridges. Values are similar to those shown for percussion revolvers. Belgian copies of the pinfire LeMat will bring less.
Gun Type:
Handgun
Antique
Excellent
<!–sse–>$0000<!–/sse–>
Fine
<!–sse–>$0000<!–/sse–>
Very Good
<!–sse–>$0000<!–/sse–>
Good
<!–sse–>$0000<!–/sse–>
Fair
<!–sse–>$0000<!–/sse–>
Poor
<!–sse–>$0000<!–/sse–>